Selangor executive councillor and Bukit Lanjan assemblywoman Elizabeth Wong broke down in tears as she announced her resignation from both posts today following the circulation of her nude photographs.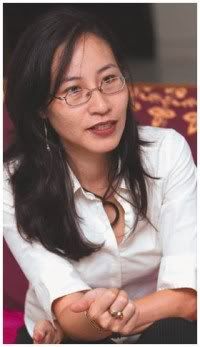 "I have received overwhelming support from family and my constituents but in the interest of my party, I have decided to offer my resignation as exco member and State Assemblyman for Bukit Lanjan," she said while trying to contained her tears.
She said the event of the last two days have shown an insidious and underhanded attempt by certain quarters to smear her reputation.
"My personal life and privacy has been violated."
However, Wong who was speaking at the PKR Headquarters in Tropicana here said that while the smear campaign was directed towards her, she was aware that the real objective was to discredit her party.
"I wish to state that I am not ashamed of my sexuality as a woman and as a single person. I have broken no law. I stand by the fundamental principle in a democracy that everyone has a right to privacy"
She said PKR stands for "New Politics" that holds justice and human rights as core values which transcends gender, ethnicity and class.
"New politics also means we rise above gutter politics." she said
Wong said she believed the attacks will continue with greater intensity and did not have any doubt that UMNO and Barisan Nasional (BN) will continue to manipulate the situation.
Wong said she will arrange a proper handover of her responsibilities to Menteri Besar Tan Sri Khalid Ibrahim whom she thanked for his unwavering support.
Dozens of her supporters who attended the press conference carried banners, cards and flowers, urging her to reconsider.
Her fellow executive council members Teresa Kok and Xavier Jeyakumar also called on her not to resign during the press conference.
Kok said each council member has had to face this sort of personal attacks and this was Wong's turn. "This can happen to anyone of us."
PKR vice-president Sivarasa Rasiah said the move to discredit Wong was politically motivated and called on Malaysians to reject what he described as gutter politics.
He said he hopes the police will bring the culprits to task.
PKR Wanita chief Zuraidah Kamaruddin said the party will not let the matter rest and will pursue the culprits.
Meanwhile party sources told The Malaysian Insider that Wong fate is still being decided by the party leadership, who are considering whether to accept her resignation.
The human rights activist and environmentalist will be the third politician in recent history to quit posts due to such photographs or video. The first was then deputy speaker of parliament D.P. Vijandran in 1989 who quit after pornographic tapes featuring him surfaced. Last year, Health Minister Datuk Seri Chua Soi Lek resigned on New Year's Day under similar circumstances.
If her resignation is accepted, it will lead to a by-election in Bukit Lanjan.
The Election Commission has already fixed April 7 for by-elections in the Bukit Gantang parliamentary seat in Perak and Bukit Selambau state seat in Kedah. The nomination day for both is March 29.
Source : The Malaysian Insider