Malaysia Today news portal editor Raja Petra Kamarudin, Seputeh MP Teresa Kok and Sin Chew Daily reporter Tan Hoon Cheng were arrested under the Internal Security Act (ISA) in Kuala Lumpur and in Penang.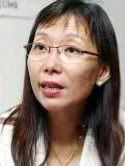 DAP's Seputeh MP Teresa Kok is also assemblyman for Kinrara and a senior executive councillor in charge of investment, industry and trade.
Kok, 43, is believed to have been picked up in connection with a residents petition in Puchong over a mosque.
Former mentri besar Datuk Seri Dr Mohd Khir Toyo had allegedly accused Kok of being involved.
She subsequently denied the allegation and demanded an apology from Dr Mohd Khir and the newspaper which reported it.


Tan, who was picked up at 8.40pm, was taken from her house in Taman Seri Rambai in Bukit Mertajam to the state police headquarters on the island.
Sin Chew Daily reporter Tan Hoon Cheng is believed to have been arrested over her report on former Bukit Bendera Umno division chief Datuk Ahmad Ismail's racist remarks while campaigning for the Permatang Pauh by-election last month.
Tan, 32, is an award-winning journalist with nine years of experience. She is a Mass Communication graduate from Universiti Sains Malaysia.
Lee Kelvin from Guang Ming and Tan Ming Xao from Nanyang Siang Pau, who had vouched for the accuracy of Tan's report had gone into hiding.
Acting Inspector-General of Police Tan Sri Ismail Omar confirmed the arrests of Tan and Kok.
The first person to be picked up was Raja Petra, 58, from his house in Sungai Buloh near here, followed by Tan, 32, who was arrested from her house in Bukit Mertajam, Penang. Teresa, 43, was detained at 11.20pm as she was on her way home in a car.
A team of police officers from Bukit Aman arrived at Raja Petra's house at 1.10pm and led him away 40 minutes later.
The team also took some 15 VCDs on ceramah held by Opposition Leader Datuk Seri Anwar Ibrahim as well as 16 books.
In a statement, Deputy Inspector General of Police Tan Sri Ismail Omar said Raja Petra was arrested based on surveillance that showed that he was involved in activities that could cause unrest among the multi-racial and multi-religious society of the country.
All of them were arrested under Section 73(1) of the ISA for allegedly being a threat to security, peace and public order.
Under the Section, police are empowered to detain the trio for a period of 60 days after which the Home Minister can decide on further detention.
Home Minister Datuk Seri Syed Hamid Albar admitted that the decision to detain people and issue show cause letters would be unpopular and would be criticised but it had to be done.
"While we may want to be popular, freedom without responsibilities has ramifications.
"We have to take action to protect the wishes of the majority," he said.
Syed Hamid also said Raja Petra had been warned on many occasions in the last two years.
"Now, with so much public uneasiness, we do not want anything that can threaten peace in the country.
"The police looked at all aspects and, under present circumstances, the actions were necessary," he added.
Source: The Star
Related articles by Zemanta