Malaysian police yesterday released a journalist who was arrested under a tough security law, amid widespread anger, alarm and questions over the use of the Internal Security Act (ISA).
Sin Chew Daily reporter Tan Hoon Cheng returned to her relative's house in Taman Alma near here after a day in detention under the Internal Security Act and almost broke down in tears as she was warmly hugged by anxious family members and friends.
The 33-year-old, however, quickly regained her composure and spoke to her family members for 20 minutes before heading to stay at a friend's house for the night.
Clad in a pale orange T-shirt and jeans, Hoon Cheng was dropped off at her home by four police officers including a policewoman in a four-wheel drive vehicle at 4pm yesterday.

But there was no word on the fate of blogger Raja Petra Kamaruddin and opposition MP Teresa Kok who were also nabbed on Friday.
Reporter Tan Hoon Cheng, 32, who works for Sin Chew Daily in Penang, was released after 16 hours, to the relief of family members and the Malaysian press corps.
'I still don't know why I was detained under ISA,' she told reporters upon her release.
'I did not fabricate facts. What I wrote was exactly what I heard from him,' she said, referring to Umno official Ahmad Ismail who had made inflammatory remarks against the Chinese community.
The arrests had fanned fears among opposition politicians, social activists and journalists that it was the beginning of a bigger crackdown. Three newspapers had also received warning letters from the government over the playing up of sensitive issues.
The moves had triggered rumours that more people would be detained under the ISA, which allows for detention without trial. Home Minister, Syed Hamid Albar was yesterday bombarded with questions at a press conference on why a journalist who recorded the remarks by Ahmad was arrested while he was not touched.
The minister said Ahmad had already been punished by being suspended for three years by Umno.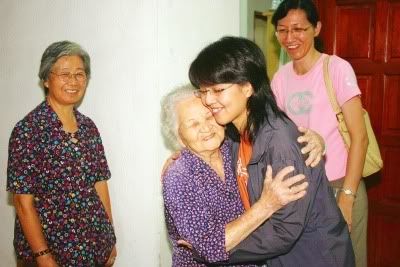 Many journalists at the press conference donned black tops and yellow ribbons to protest against Ms Tan's arrest.
'The arrests are about public order. We do get information from members of the public who feel unsafe, so we have to take preventive measures,' said Datuk Seri Syed Hamid.
He said Ms Tan was also brought in because there was a threat against her for reporting on Ahmad's remarks, and police wanted to get more details.
Syed Hamid gave the assurance that there would be no more arrests for now.
Blogger Raja Petra, known for his controversial anti-government postings, was apparently arrested for an article deemed to be anti-Islamic, newspaper reports said.
Several Islamic bodies had lodged police reports against his article published on his popular Malaysia Today website.
As for the Democratic Action Party's Kok, her party said she was accused of complaining about a mosque where the call to prayer was too loud, a charge she had denied.
Masjid Kinrara, a mosque embroiled in the issue, said Ms Kok was not involved in a residents' petition to lower the volume of its loudspeakers, Malaysiakini online news reported yesterday.
Abdul Rahman Nasir, who heads the mosque committee, said the politician never set foot in the mosque to present the petition.
Kok's parents said yesterday they were concerned over her safety because police had not informed them on her whereabouts, Malaysiakini reported.
Source: Straits Times Singapore and The Star