Datuk Seri Najib Tun Razak announced a 28-member Cabinet with 25 ministries that saw eight ministers dropped and seven new faces appointed.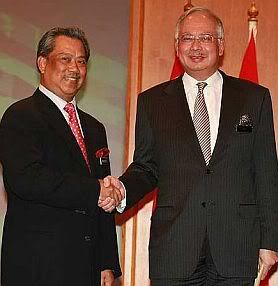 Tan Sri Muhyiddin Yassin, who won the Umno deputy presidency in last month's party elections, was appointed Deputy Prime Minister and Education Minister.
Najib, who took his oath of office as the new prime minister on April 3, also retained the finance portfolio which he has held since Sept 19 last year following the portfolio swap between him and former premier Tun Abdullah Ahmad Badawi at that time.
Najib's Cabinet is slightly smaller than his predecessor's 32 ministers and 27 ministries.
The new cabinet line-up;

Prime Minister and Finance Minister 1
Datuk Seri Najib Tun Razak
Deputy PM and Education Minister
Tan Sri Muhyiddin Yassin
Ministers in Prime Minister's Department
Unity and Performance Management: Tan Sri Dr Koh Tsu Koon
Law and Parliament: Datuk Seri Mohamed Nazri Aziz
Religious Affairs: Brig. Gen. (Rtd) Datuk Jamil Khir Baharum
Economic Planning Unit: Tan Sri Nor Mohamed Yakcop
Deputies: Datuk Liew Vui Keong, Senator Datuk Dr Mashitah Ibrahim, Datuk SK Devamany, Ahmad Maslan, Senator T. Murugiah
Finance
Minister : Datuk Seri Najib Tun Razak
Finance Minister II: Datuk Ahmad Husni Hanadzlah
Deputies: Datuk Chor Chee Heung, Datuk Dr Awang Adek Hussein
Education
Minister : Tan Sri Muhyiddin Yassin
Deputies: Datuk Wee Ka Siong, Datuk Puad Zarkashi
Transport
Minister : Datuk Seri Ong Tee Keat
Deputies: Datuk Abdul Rahim Bakri, Datuk Robert Lau
Home
Minister : Datuk Seri Hishammuddin Hussein
Deputies: Datuk Wira Abu Seman Yusop, Jelaing Mersat
Information, Communications, Arts and Culture
Minister : Datuk Seri Dr Rais Yatim
Deputies: Datuk Joseph Salang Gandum, Senator Heng Seai Kie
Energy, Green Technology & Water
Minister : Datuk Peter Chin Fah Kui
Deputy: Noriah Kasnon
Plantation Industries and Commodities
Minister : Tan Sri Bernard Dompok
Deputy: Datuk Hamzah Zainuddin
Rural and Regional Development
Minister : Datuk Seri Shafie Apdal
Deputies: Datuk Hassan Malek, Datuk Joseph Entulu
Higher Education
Minister : Datuk Seri Khaled Nordin
Deputies: Dr Hou Kok Chung, Saifuddin Abdullah
International Trade and Industry
Minister : Datuk Mustapa Mohamed
Deputies: Datuk Muhkriz Mahathir, Datuk Jacob Dungau
Science, Technology and Innovation
Minister : Datuk Dr Maximus Ongkili
Deputy: Fadillah Yusof
Natural Resources and Environment
Minister : Datuk Douglas Uggah Embas
Deputy: Tan Sri Joseph Kurup
Tourism
Minister : Datuk Seri Dr Ng Yen Yen
Deputy: Datuk Seri Sulaiman Abdul Rahman Abdul Taib
Agriculture and Agro-based Industries
Minister : Datuk Noh Omar
Deputies: Johari Baharum, Rohani Abdul Karim
Defence
Minister : Datuk Seri Dr Ahmad Zahid Hamidi
Deputy: Datuk Dr Abdul Latif
Works
Minister : Datuk Shaziman Abu Mansor
Deputy: Datuk Yong Khoon Seng
Health
Minister : Datuk Seri Liow Tiong Lai
Deputy: Datuk Rosnah Rashid Shilin
Youth and Sports
Minister : Datuk Ahmad Shabery Cheek
Deputies: Datuk Razali Ibrahim, Wee Jeck Seng
Human Resources
Minister : Datuk Dr S. Subramaniam
Deputy: Datuk Maznah Mazlan
Domestic Trade and Consumer Affairs
Minister : Datuk Seri Ismail Sabri
Deputy: Datuk Tan Lian Hoe
Housing and Local Government
Minister : Datuk Kong Cho Ha
Deputy: Lajim Ukin
Women, Family and Community Development
Minister : Datuk Seri Shahrizat Abdul Jalil
Deputy: Datin Paduka Chew Mei Fun
Foreign Affairs
Minister : Datuk Anifah Aman
Deputies: Datuk Lee Chee Leong, Senator A. Kohilan Pillai
Federal Territories
Minister : Datuk Raja Nong Chik Zainal Abidin
Deputy: Datuk M. Saravanan